ArmorGuard Barrier Link
The ArmorGuard Barrier system offers a practical solution for including positive protection barrier separation in short-term construction projects. ArmorGuard Barrier is ideal for locations where safety and barrier portability are paramount. This freestanding barrier comes in 28 ft. (8.5 meter) sections and can be quickly interlocked to form a 200' to 300' portable barrier wall in about 30 minutes.
The ArmorGuard Barrier link system is tested to both NCHRP Report 350 at TL-2 (70km/h) and TL-3 (100 km/h) with minimum lengths of 68m (TL-3) and 34m (TL-2). The maximum deflection is <2m (TL-3) and < 1m (TL-2).
The ArmorGuard Barrier Link system creates a portable, crashworthy barrier that can be moved and reconfigured as staging progresses. It is designed as a stationary or mobile work zone and can be easily towed or pulled longitudinally as the work zone progresses and takes less than 2 minutes for two people to open or close a section.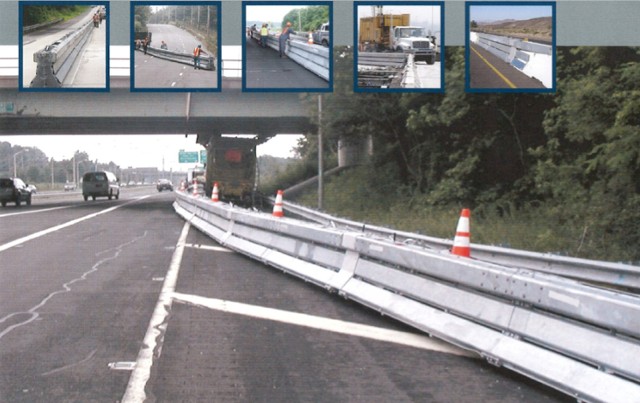 ArmorGuard Barrier Link Brochure
ArmorGuard Barrier Installation Manual
ArmorGuard Gate
The ArmorGuard Gate system is a heavily reinforced steel barrier that is designed for emergency openings. It is ideally suited for permanent barriers where emergency vehicles, maintenance crews and emergency access may be needed and positive barrier protection is required. The system is approximately 28 inches (710 mm) wide and 33 inches (830 mm) high. The Armorguard Gate system is offered in 26, 39 and 52 foot (8, 12, and 16-meter) lenghts.
The system is tested to NCHRP Report 350, Test Level 3 (100 km/h) and must be attached to anchored barrier capable of supporting impact loads while being place on a smooth, hard surface for optimum mobility.
The ArmorGuard Gate System is delivered completely assembled. The system can be easily opened or closed without expensive electrical power supplies and take less than 5 minutes for two people to open and close.
ArmorGuard Gate Installation Manual